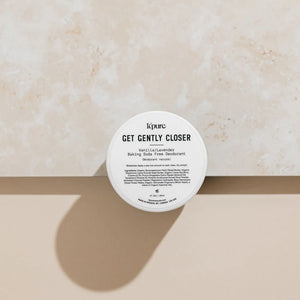 K'PURE GET GENTLY CLOSER ALL NATURAL DEODORANT
A baking soda-free, all-natural deodorant that really works??  Yes! We've replaced baking soda with Magnesium and the biggest perk for you, is that it's naturally absorbent, both of moisture and odour. So if you have sensitive skin, or have adverse reactions to sodium bicarbonate (baking soda), this is THE deodorant for you! As with our regular deodorant, you may or may not experience a detox period, but be patient. Give the deodorant time to work, applying twice a day for the first few days if necessary. And the longer you use K'pure deodorants, the less you'll need to use.
Ingredients: organic butyrospermum parkii (shea) butter, organic theobroma cacoa (cocoa) seed butter, organic cocos nuciferus (coconut) oil, prunus amygdalus dulcis (sweet almond) oil and tocopherol (Vitamin E) to moisturize and protect skin; maranta arudinacea (arrow) root powder and activated charcoal powder to absorb wetness, and magnesium hydroxide, rosa damascena (rose) flower water, organic hamamelis virginiana (witch hazel) and a blend of organic essential oils to deodorize.