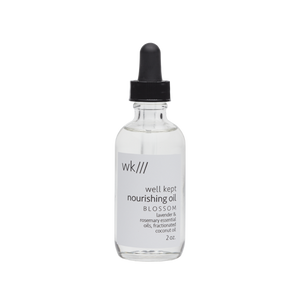 WELL KEPT BLOSSOM NOURISHING OIL
Well Kept's all natural body oil uses fractionated coconut oil to create a moisturizing topical barrier without clogging pores while the antioxidants in lavender and rosemary essential oils work to tighten skin and cleanse it of environmental toxins.
Can be used all over body and works especially well when rubbed into damp skin after a shower.
Ingredients: fractionated coconut oil, lavender essential oil and rosemary essential oil.12.